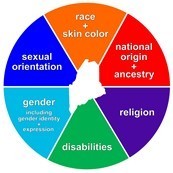 ATTENTION STUDENTS!
Sarah Grant
Wednesday, October 21, 2020
Come join the Civil Rights Team Covid Style!
The Civil Rights Team is a group of people dedicated to addressing issues of bias in our school. The team will meet every Wednesday via GoogleMeet with an invitation sent by Mr. Absalom; all are welcome at any time. We will consistently collaborate in order to complete projects, big and small, which will make a positive impact on our school.
So, are you brave, courageous, intelligent, smart, sympathetic, caring, talkative, athletic, creative, confident, serious, tough, hard-working, nice, friendly, excited, energetic, independent, generous, passionate or bored?
WE MEET VIRTUALLY ON WEDNESDAYS @ 11:30, SEND US AN EMAIL IF YOU ARE INTERESTED AND WE WILL INVITE YOU :)
Mr. Absalom email- tabsalom@msad37.org
Ms. Holub email- eholub@msad37.org